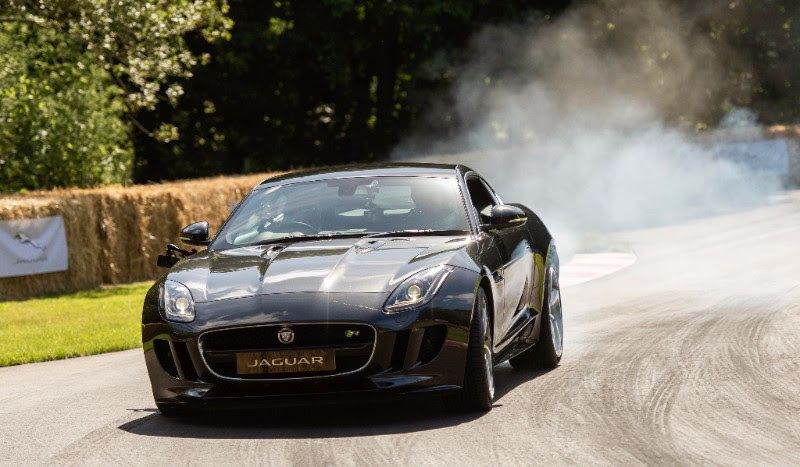 JAGUAR SHARPENS ITS CLAWS
AT THE CLASSIC
Jaw-dropping Art of Performance Tour comes to Silverstone
Go drifting in an F-TYPE and take home film of your experience
Jaguar XJ14 holds the Silverstone Classic circuit lap record
C-types, D-types and E-types all in racing action
Jaguar's racing heritage has always been massively to the fore at the Silverstone Classic but, for the first time, later this month the legendary British manufacturer will be the Official Experiential Partner to the world's biggest historic motor racing festival.
Visitors to this year's Silverstone Classic (29-31 July) will not only be able to see racing Jaguar C-types, D-types, E-types and Group C prototypes in all their nostalgic glory roaring around the famous Grand Prix circuit but they will also be given the chance to experience a state-of-the-art F-TYPE being pushed to the limit within the event's thrill-laden Adrenaline Zone.
The tyre-smoking Art of Performance Tour will take show-going passengers out of their comfort zones with the heart-pumping thrills of drifting in an F-TYPE… with a professional driver at the wheel. What's more, this totally free mind-boggling experience will be recorded on video for exhilarated participants to take home.
Jaguar will similarly be entertaining those not seeking quite such an adrenaline rush, allowing them to test their skills with remote control scale replica Jaguar F-TYPEs on a mini drifting circuit.
Away from the Adrenaline Zone, as always a wonderful array of pedigree Jaguars will feature strongly throughout all areas of the ultimate Classic. Between them, the XK and Jaguar Enthusiasts' Clubs will be celebrating 50 years of the E-Type 2+2, 30 years of the XJ40, 20 years of the XK8 and several other notable milestones in the marque's rich history with special displays and track parades, while racing Jaguars will be rolling back the years in many of the Classic's most prestigious showdowns.
Indeed, Jaguars have savoured notable successes in recent years including victories in the Royal Automobile Club Woodcote Trophy for Pre-'56 Sportscars, Sir Stirling Moss Trophy and International Trophy for Pre-'66 GT Cars. The outright lap record around the Silverstone Classic circuit is held by a 1991 Jaguar XJR14 sports-prototype, set by Nic Minassian in 2013's spectacular Group C retro races (main below). The French ace averaged close to 123mph around the 3.64-mile layout in the remarkable Ross Brawn-designed record-breaker – a sensational marker that's yet to be topped.
Fans wanting to see all these thoroughbred Jaguars in track action or to have their eyes opened by drifting in an F-TYPE, must buy their tickets in advance. Adult admission prices for the Classic start at £42, with £6 admission for accompanied children aged between 6 and 16-years-old. A wide range of weekend, camping, VIP hospitality and Family Tickets are also available. Adding to the festival's immense appeal, tickets include free entrance to both racing paddocks, trackside grandstands and live music concerts on Friday and Saturday evenings which this year include The Boomtown Rats, Reef and The Stranglers. Full details can be found on the official
www.silverstoneclassic.com
website.